Here is what you can expect to find at Aldi's this week. Please remember that Aldi's prices are different regionally, so be sure to check out your Weekly Ad.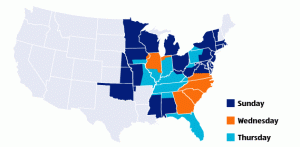 Aldi's Weekly Ad and start dates for sales are based on the map below. Prices will change on Wednesday, Thursday or Sunday depending on your location on the map. In the Northeast, prices Change on Sunday!!
Aldi's helpful tips
Bring your own shopping bags. (Aldi's will provide bags at a small cost for each) or you can throw everything in the back of your car and organize is when you get home. (but this can lead to a very messing trunk)
Find a QUARTER!! Shopping carts are locked up and the only way to release them is by inserting a quarter. You will get your quarter back after returning your cart.
Make a list! Aldi's pretty much covers all the basics that your family will need, however they stock specialty items based on the season.
Brand names do exist at Aldi's, but is very rare. Aldi's carries their own brand of products.
Bring cash or your debit card to make grocery purchases. Aldi's doesn't accept credit cards for purchases.
I prefer to shop at Aldi's in the morning, when they stock all their fresh produce. I have found in the evening that the produce is picked over and doesn't look as well from sitting out all day.